Genesis Defender Generator Series
The Defender Generator Series Augments BlackStarTech's Backup Power Systems Resulting in an Uninterruptible Power Supply
The Genesis Defender Generator Series are custom compact dual fuel generators specifically configured to connect and support a variety of BlackStarTech battery backup power systems. This configuration allows BlackStarTech's backup power systems, such as the Genesis Power Cart Series, the ability to provide long term power for 30 days or more. The Defender Series complements BlackStarTech's rapidly deployable power systems by delivering reliable backup power and serving as an uninterruptible power supply (UPS).
The Defender Generator Series run on dual fuel propane and gas. The generators are configured by BlackStarTech with two propane cylinders that auto swap between cylinders through an installed regulator. This allows the 3.5kW generator to run for up to 16 hours of operation on two 20-lb propane cylinders or 9 hours on a 3.4-gallon tank of gasoline. Utilizing the 9.5kW generator allows you to run up to 10.66 hours on two 20-lb propane cylinders or 12 hours on 6.6-gallon tank of gasoline. Apply economy mode for quieter operation on the 3.5kW generator, providing more fuel savings, and longer engine life. Each unit has a front control panel that provides easy access to outlets, main breaker, voltage output frequency meter, USB ports, and more. This compact, portable generator is air cooled and has low oil shut-off, electric and recoil start, and a cast iron sleeve for durability.
Whether you need to support crucial equipment during the loss of AC power or need to perform maintenance, the Genesis Defender Generator Series acts as a reliable defense against loss of power by supplying power to vital components.
Download Brochure
Propane Generators: Less Maintenance and More Efficient
Maintenance is key in the propane versus diesel discussion. Diesel generators require regular maintenance and vigilant monitoring due to stagnant fuel remains in the tank, which results in water condensation that in turn accelerates microbiological growth. With diesel or gas, it must be sampled regularly for moisture, which runs the risk of ruining the generator. If needed the Defender Generator Series offers resilience and flexibility as it also accepts gasoline as an alternative fuel solution.
The Defender Generator Series dual fuel generators utilize propane as the first choice due to diversity of fuel supply and the resiliency factors of propane. Propane has an effectively infinite shelf life, estimated at 30 to 40 years or more, and requires less maintenance. The utilization of propane mitigates many environmental concerns found with other fuel sources due to spilling and leaking, plus the emissions associated with diesel fuel. The propane-powered Defender Generator Series does not require rigorous maintenance and is an environmentally acceptable alternative that exudes less carbon. Propane is clean-burning fuel because of its low emissions as it produces fewer greenhouse gases per gallon than diesel so it can be used in large indoor ventilated areas such as a turbine building deck. Diesel engines are prohibited from certain areas because of the emissions, while propane generators do not have that limitation.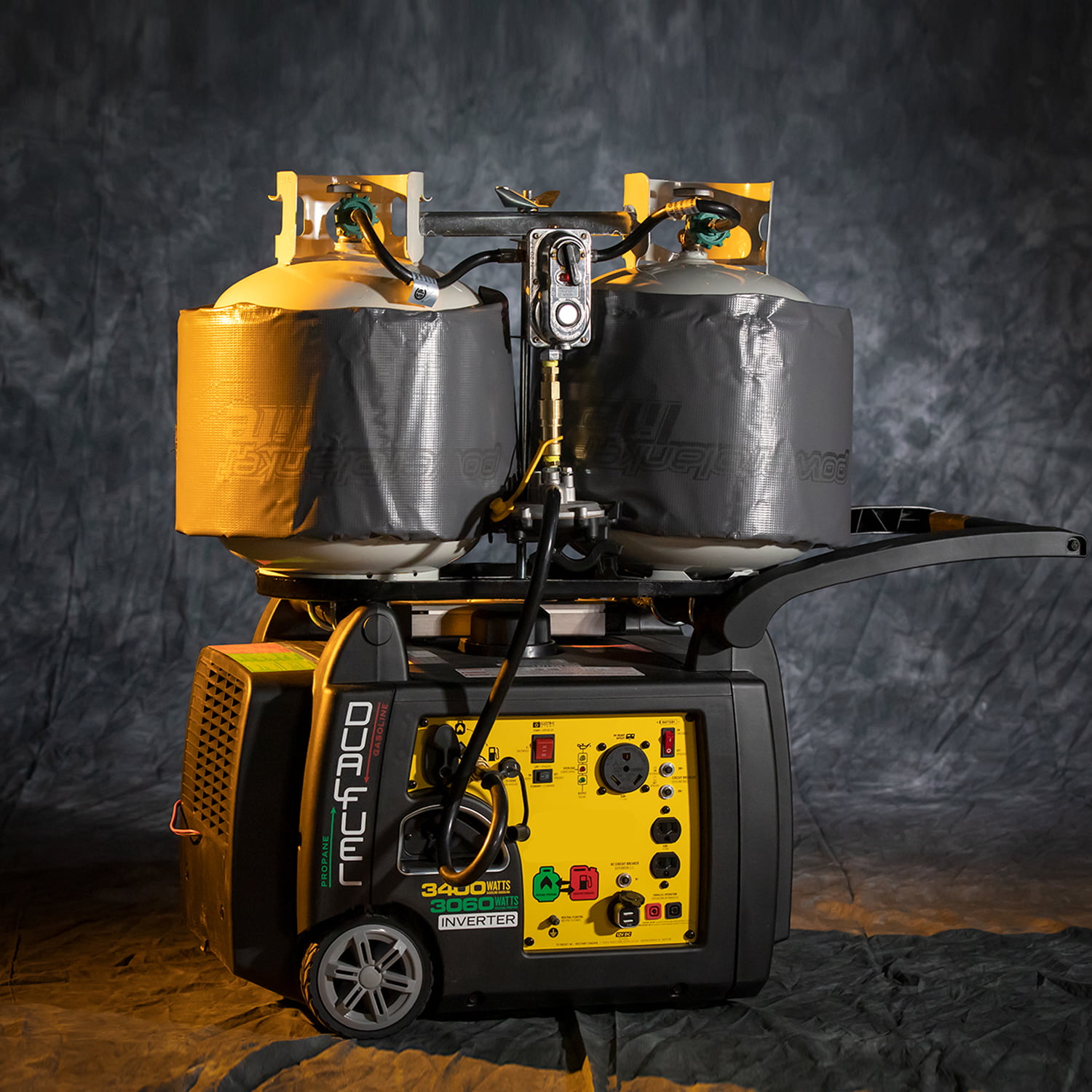 Defender 3.5kW Generator (120VAC)
Defender-120
This dual fuel generator produces 3500 peak watts and 3200 running watts. It can last up to 16 hours on the two 20-lb propane cylinders or 9 hours on 3.4-gallon tank of gasoline. Each unit's control panel comes with an electric start switch, an economy switch to run quietly and efficiently, and a circuit breaker, while displaying output overload information. Also incorporated are various outlets including the following:
• 2 120V 30A (TT-30R)
• 2 120V 20A household outlets (5-20R)
• 1 12V DC automotive-style outlet with dual USB adapter
View Product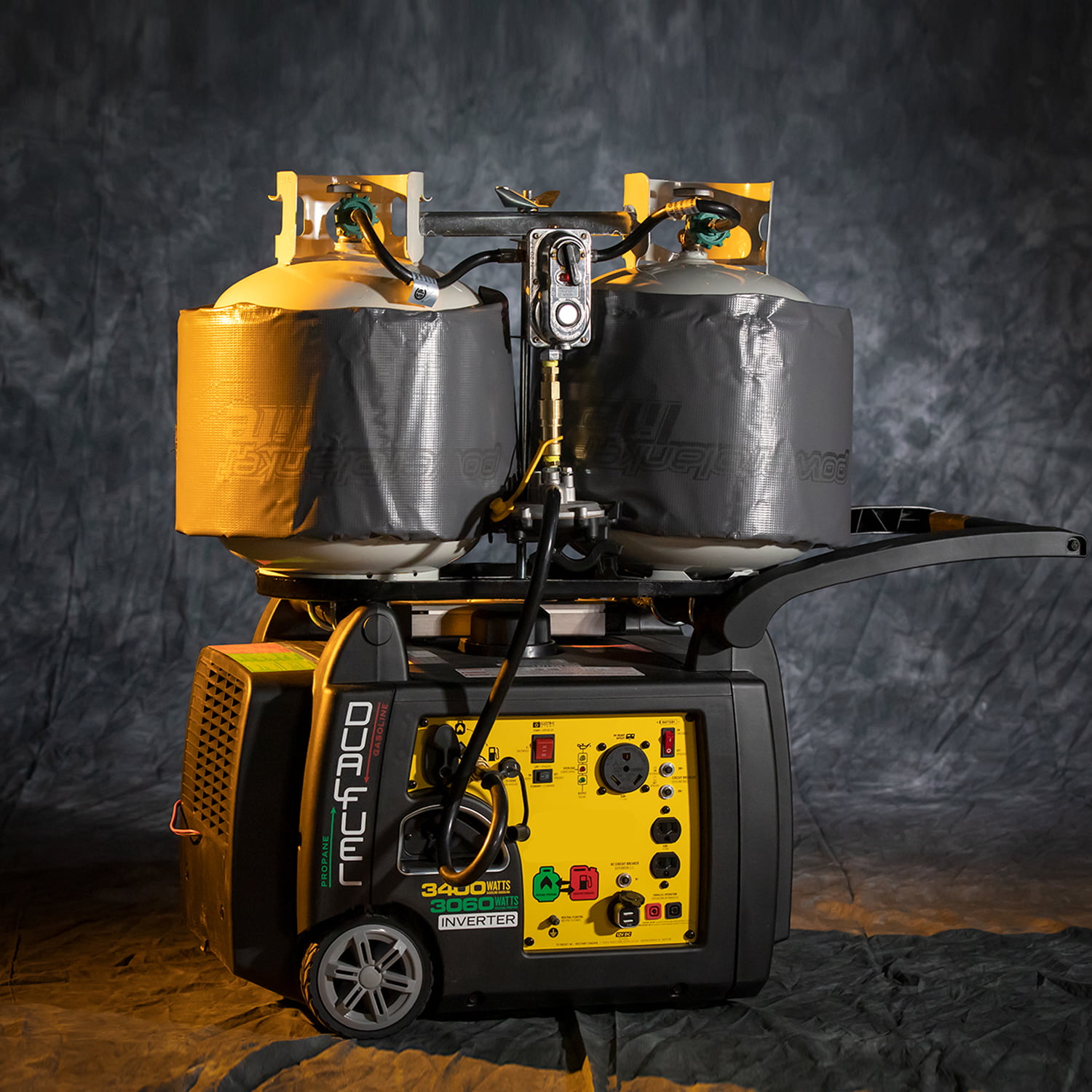 Defender 3.5kW Generator (120VAC/125VDC)
#Defender-Dual
This dual fuel generator produces 1200 watts of 125VDC power and 3500 peak watts and 3200 running watts. It can last up to 16 hours on the two 20-lb propane cylinders or 9 hours on the 3.4-gallon tank of gasoline. Each unit's control panel comes with an electric start switch, an economy switch to run quietly and efficiently, and a circuit breaker, while displaying output overload information. Also incorporated are various outlets including the following:
• 2 120V 30A (TT-30R)
• 2 120V 20A household outlets (5-20R) equipped with automatic over-voltage protection
• 1 12V DC automotive-style outlet with dual USB adapter
View Product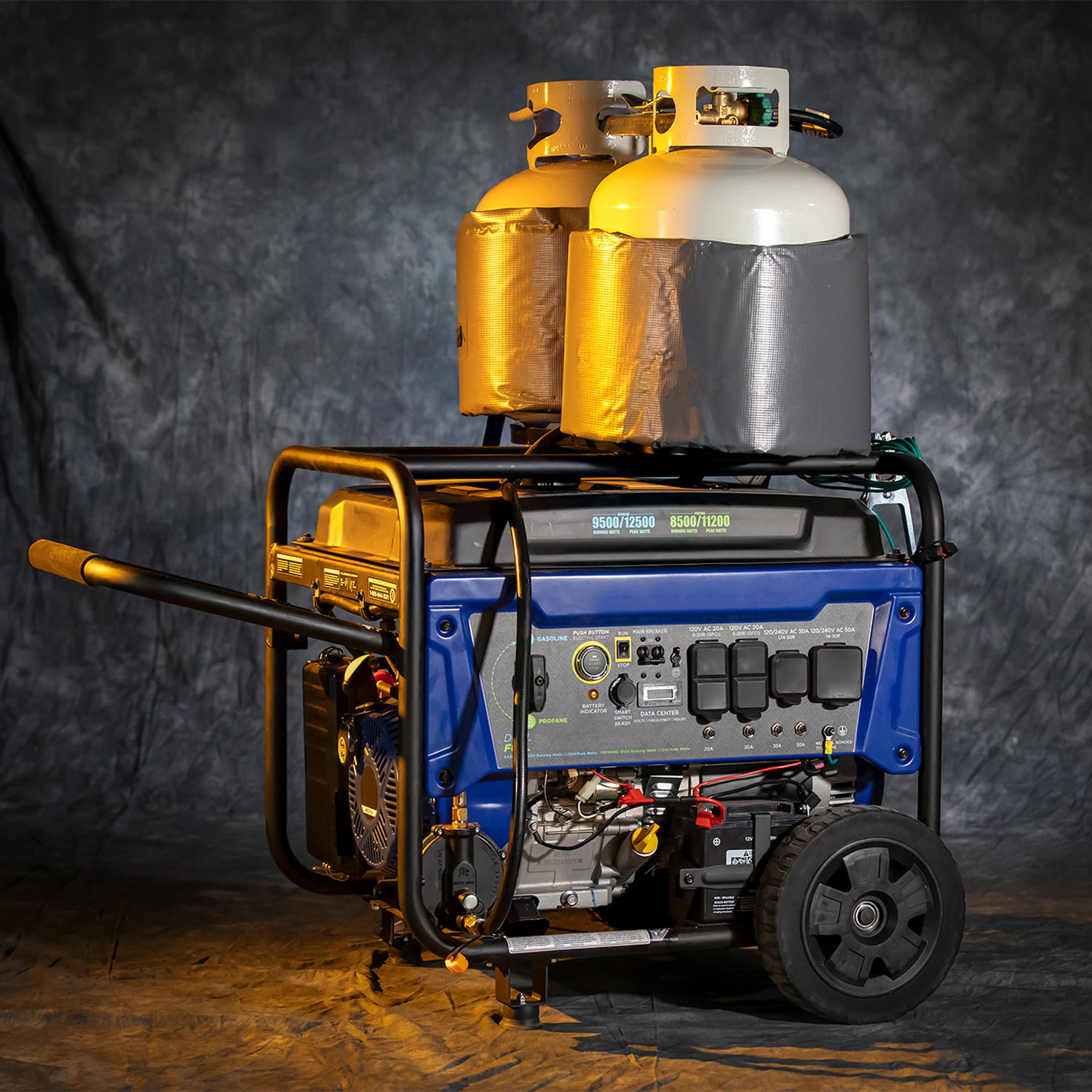 Defender 9.5kW Generator (240VAC)
#Defender-240
The Genesis 9.5kW dual generator produces up to 12,500 peak watts and 9,500 running watts. This generator can run up to 10.66 hours with the two 20-lb pound propane cylinders or 12 hours on 6.6-gallon tank of gasoline. This unit has a built-in control panel, providing easy access to the VTF data center meter which displays the voltage, frequency and time left on the generator. The control panel also provides the following outlets and buttons:
• 2 Duplex 120V 5-20R
• 1 120/240V L14-30R
• 1 120/240V 14-50R
• 2 USB ports
• ST switch outlet
View Product