Lessons From Fukushima: The Critical Importance of Emergency Power Systems
The Critical Importance of Emergency Power Systems
On March 11, 2011, a magnitude 9.0 earthquake off the coast of Japan launched a 45-foot tsunami that devastated the nuclear reactors at Fukushima Dai-ichi—and rattled the nuclear power industry worldwide. The disaster made it painfully evident any nuclear power facility without an ironclad backup power system risked catastrophic failure.
A global cascade of costly regulations aimed at maintaining key functions for nuclear plant integrity ensued.
An Emergency Power Systems Overhaul
One nuclear operator that committed to do more than simply comply with NRC Post-Fukushima guidelines was Exelon—the largest operator of nuclear power plants in the United States. In response to the Fukushima disaster, Exelon vowed to upgrade site backup power systems in the event of an extended loss of AC power (ELAP) event by developing BlackStarTech® – an array of dependable, rugged, thoroughly designed, and rigidly tested backup power systems and emergency lighting solutions.
Safe, Easy and Fast: Power When and Where You Need It Most
BlackStarTech addresses the shortcomings of the Fukushima incident with battery power systems and optional backup propane generators specifically designed to deploy power within 30 minutes that lasts up to 30 days. For nuclear power plants, the BlackStarTech brand pledges to help protect facility assets by providing a rapidly deployable battery backup power supply coping system for emergency core cooling and pressure control to prevent a Fukushima-type event.
BlackStarTech delivers two solution families. Both families feature compact advanced long lasting Lithium Iron Phosphate (LiFePO4) batteries for easy and fast deployment:
BlackStarTech Genesis was created to provide surgically targeted emergency power to critical systems, and can be deployed in less than 30 minutes, with the battery backup power supply lasting up to 30 days when leveraging an integrated long-term fuel option.
BlackStarTech Lightworks™ emergency and outage lighting illuminates critical pathways and work sites in an emergent event, and can also be used for easy, portable lighting during outages and to simplify routine online work. Exelon has already applied Lightworks to seven sites across its nuclear fleet.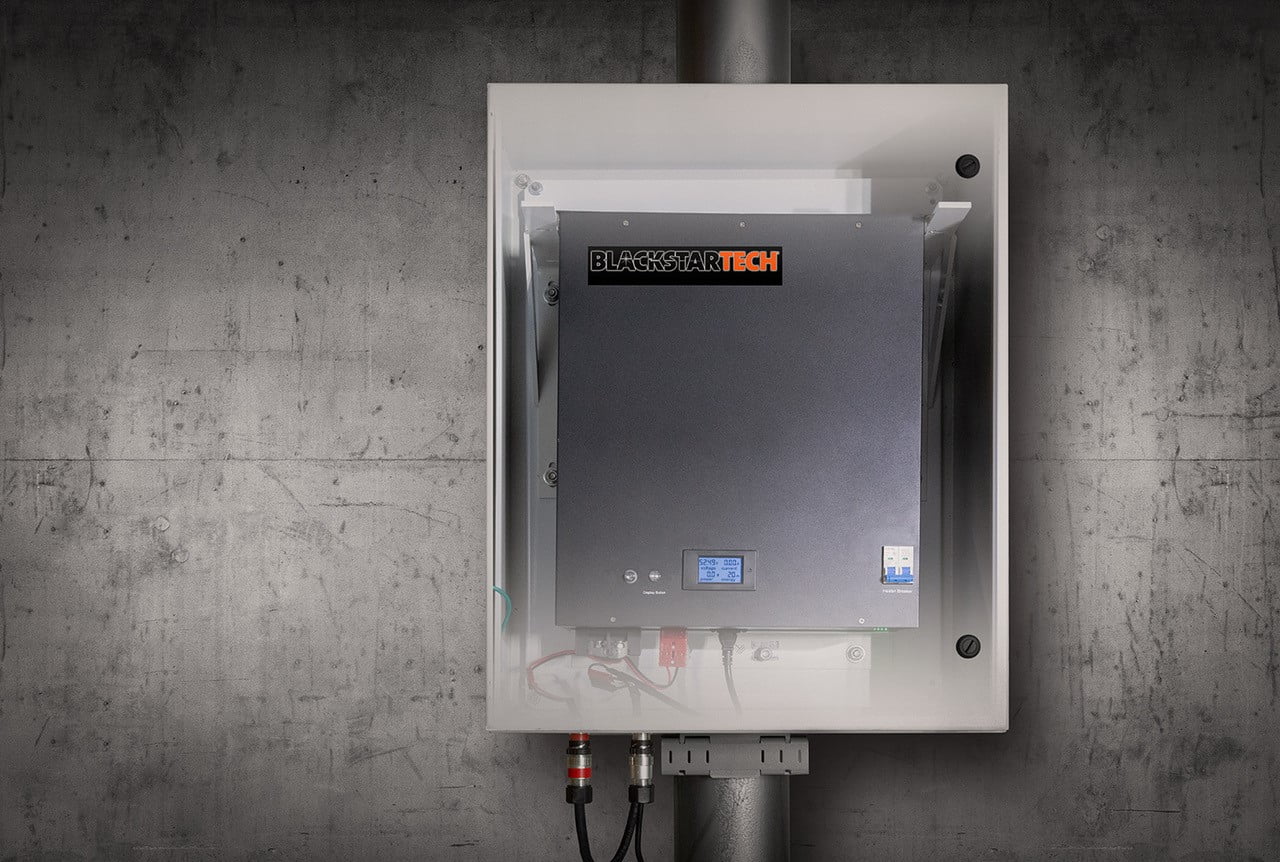 A Much Better Battery
The state-of-the-art technology in the BlackStarTech line of products sets the gold standard for nuclear power plants and other facilities reliant on critical power supply.
Unlike other battery offerings that employ older, maintenance-intensive batteries and antiquated backup diesel generators, BlackStarTech utilizes state-of-the-art Lithium Iron Phosphate (LiFePO4) Batteries and highly efficient integrated propane backup generators to provide power solutions that can typically be deployed in 30 minutes and run for 30 days.
The Lithium Iron Phosphate Batteries are 50% lighter and have significantly more energy density than Lead Acid batteries. These advanced batteries last at least 3X longer, are more environmentally friendly, and have 15-year expected battery lifespans. In addition, LiFePO4 batteries are inherently non-combustible and much more stable than Lithium-Ion batteries. Based on extensive testing, there are no combustibility or thermal runaway concerns with LiFePO4.
Additionally, these backup power batteries enable a heightened level of radiological and industrial safety while enhancing overall routine plant productivity by providing portable power for isolated areas, by providing contingent power for confined spaces and security systems and by providing battery packs for risk-informed technical specifications and many other industry-specific applications.
The same LiFePO4 batteries also provide efficient power for Lightworks smart lighting solutions to run for up to 24 hours, buying a facility enough time and emergency lighting to safely work onsite and devise long-term resolution. The longer-term solution could include the Lightworks BrightSites Leviathan Tower Extreme, which provides towable, extra-long run time illumination that can be augmented with integrated compact backup propane generators. There are other options within the Lightworks BrightSites Series as well.

Cost Savings: Reduced Maintenance, Materials, and Manpower
The Lightworks iSentient Series Smart Emergency Lighting delivers essential emergency lighting devices that meet all emergency and regulatory facility lighting requirements.
In addition to a longer illumination duration and more head lamp lumens, Lightworks™ features self-diagnostic predictive and communication notification software. The Lightworks™ iSentient Series offers remote monitoring of the health and life of the battery. The predictive software combined with the excellent battery life provides the ability to remotely manage and communicate issues immediately to key individuals for increased awareness and ability to respond. This helps maintain smart emergency lighting across your facility, minimizing surveillance inspections, and reducing maintenance and lifecycle costs, while improving reliability.
BlackStarTech Lightworks has enabled real deployments at nuclear stations resulting in savings of two full-time equivalent (FTE) employees and over $150K in annual materials cost savings by not having to maintain the old Lead Acid batteries for emergency lighting.
Risk Reduction: Increased Safety Margin
The Quad Cities Generating Station in Illinois employs the BlackStarTech advanced line of Genesis Series backup power supply solutions for several operational uses. As a result of this implementation, Quad Cities reduced risk profiles, and enhanced risk-informed applications.
With the ability to deploy targeted power within 30 minutes, Quad Cities was able to make a 15% reduction in Core Damage Frequency (CDF) and Large Early Release Frequency (LERF) for both Full Power Internal Events and Fire PRAs (Probabilistic Risk Assessment).
While Quad Cities is able to use BlackStarTech for non-emergency situations, they have also used it to augment their FLEX strategy and improve their PRA by more than 15%.
Not Just for Emergencies: Simplified Online and Planned Outage Work
The BlackStarTech products can simplify work in non-emergency situations. All nuclear stations have planned outages that involve the shutdown of a generating unit for inspection, maintenance, or refueling. The Sentinel MOV Power Pack is a small 3-Phase power solution, easy to deploy near Motor Operated Valves and other components to improve station efficiency. Similarly, the Sentinel AOV Power Pack can be used to run Air Operated Valves during planned outages, in addition to emergency scenarios.
Learning from the Past
The fallout from the Fukushima disaster is a lasting reminder of what can go wrong when proper backup power systems are not in place. BlackStarTech stands as the premier solution to help safeguard nuclear stations so history does not repeat itself.
Request A Quote