Lightworks iSentient Smart Emergency Lighting
iSentient Series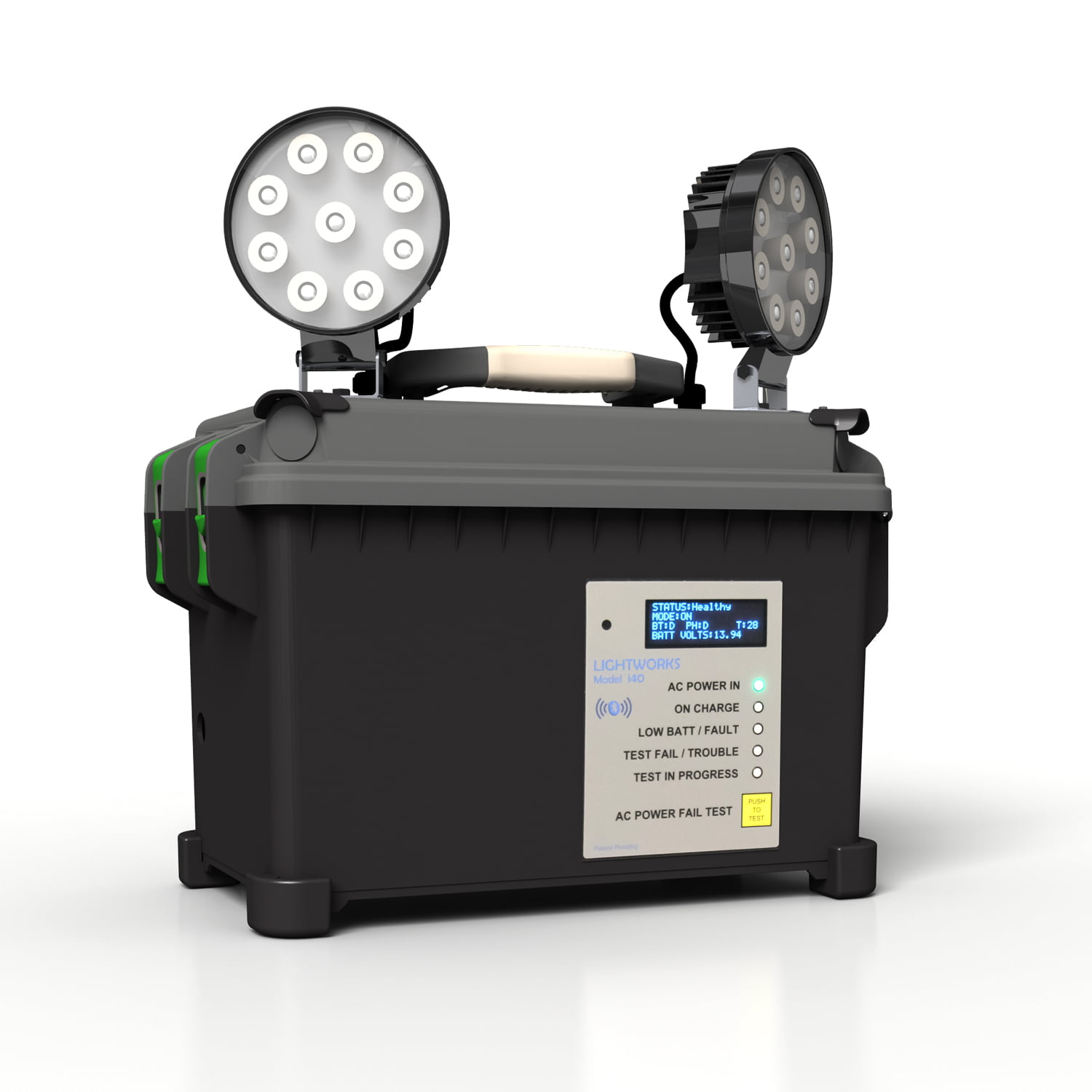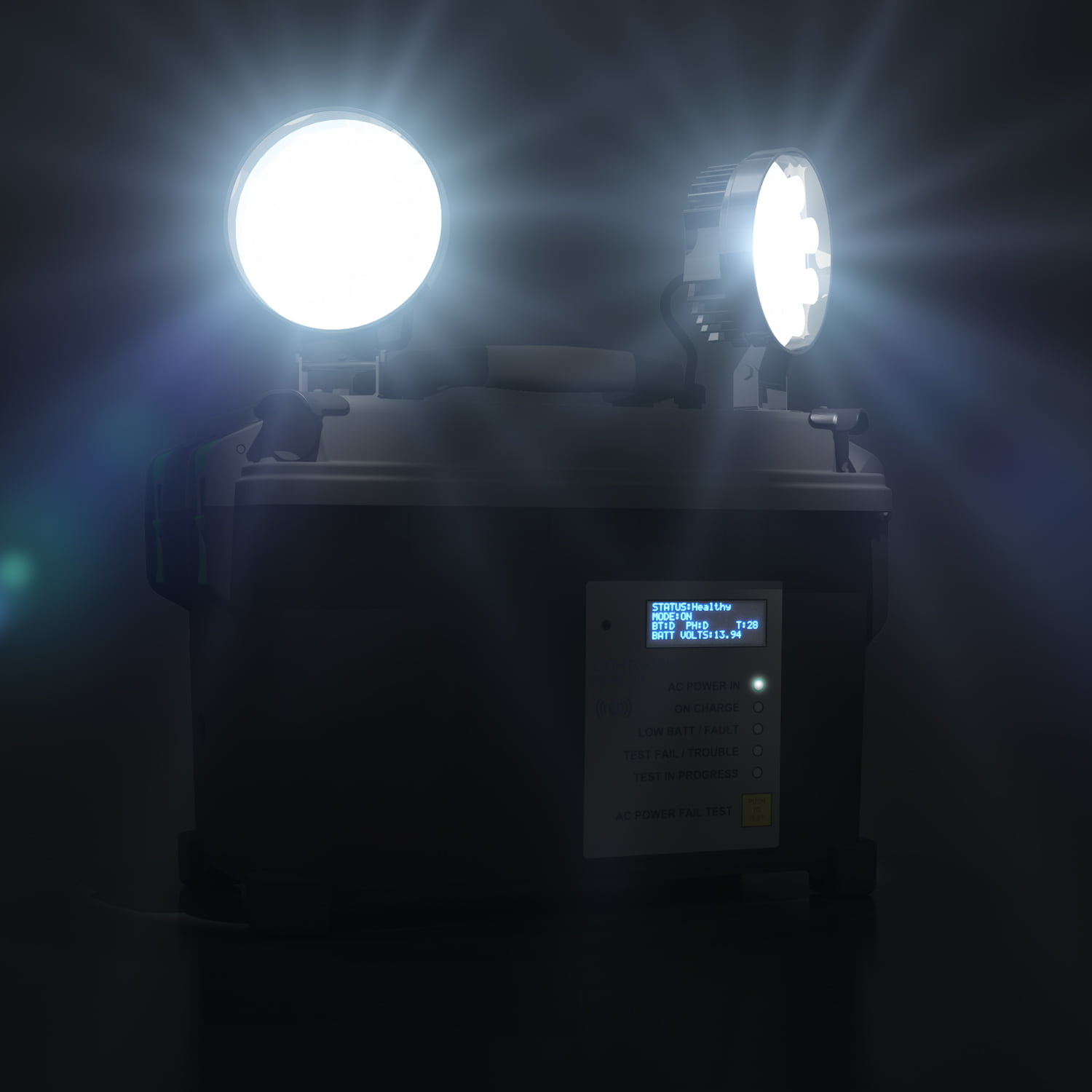 Smart Emergency Lighting With Remote Monitoring Performance Capabilities
The iSentient Series smart emergency lighting features self-diagnostic predictive and communication notification software. The predictive software combined with the excellent battery life provides the ability to remotely manage and communicate issues immediately to key individuals for increased awareness and the ability to respond. This helps maintain smart emergency lighting across your facility, minimizing inspections, and reducing maintenance and lifecycle costs, while improving reliability.
iSentient Series' Internal Control System firmware code, Single Board Computer Communication Software, Terminal Software Program, and Bluetooth Application technologies perform technical tasks that provide cyber-compliant data output, device performance details, and control of ancillary optional functions. This type of intelligence coupled with the Lithium Iron Phosphate battery and rugged portability, makes the iSentient Series the most desirable line of smart emergency lighting on the market.
The iSentient Series can be tailored to your needs including the number of local and remote headlamps, a mounting shelf, a solid-state drive (SSD), and LTE network connectivity.
Lithium Iron Phosphate Batteries: Better and Safer Than Your Typical Industry Batteries
Lithium Iron Phosphate batteries are safe, reliable, and more environmentally friendly than lead acid batteries. While the battery management system (BMS) performs advanced self diagnostics to protect the battery, the chemical make-up allows the battery to maintain a longer expected lifecycle of 15 years. This means fewer battery replacements, less downtime, and increased reliability.
The internal BMS optimizes functionality and safety. The system monitors battery health including cell voltage, maximum charge and discharge current, overvoltage, overcurrent, temperature, cell balancing, short circuit, and more. The BMS takes protective actions to improve reliability and safety using notification alarms through data communications or by automatically disconnecting the battery. Temperature monitoring self-diagnostics eliminate the possibility of extreme temperatures from battery operation, thereby preventing thermal runaway.
Cost Savings
Standard emergency lighting devices often use lead acid batteries which need to be replaced every 3 to 5 years. Additionally, they often require weekly and monthly manual validation checks, experience frequent failures, and can incur expensive repairs. As for the iSentient Series, they rely on Lithium Iron Phosphate batteries, providing significant maintenance cost savings due to the lifespan and little to no maintenance required as they can be monitored remotely. It's estimated that a customer could save up to $150,000 in annual materials and maintenance costs when switching to the iSentient.
Features & Benefits
| Features | Benefits |
| --- | --- |
| Remote performance monitoring software and predictive diagnostics with self-testing features | Monitor the health of all battery and emergency lighting devices from your smartphone or computer and receive communications about critical parameter alarm notifications. This dramatically reduces your maintenance costs in terms of both people and materials. |
| Utilizes Lithium Iron Phosphate (LiFePO4) batteries | More environmentally friendly than older Lead Acid batteries. LiFePO4 batteries have 15-year expected battery lifespans, which means increased reliability and fewer replacements.In addition, LiFePO4 batteries are inherently non-combustible and much more stable than Lithium-Ion batteries. Based on extensive testing, there are no combustibility or thermal runaway concerns with LiFePO4. |
| Wi-Fi enabled, with optional LTE connectivity | Enables you to communicate easily with your lighting devices, and add critical applications leveraging LTE networks with IoT capability |
| Bluetooth hardware is standard | Facilitates manual performance monitoring of Lightworks devices in areas without Wi-Fi access using the Lightworks Bluetooth App |
| 24-hour LED emergency lighting (based on a two-headlamp configuration) | 3X longer lasting than products from other vendors |
| Battery rechargeable up to 15,000 cycles | Triple the amount of usage for the user compared to average emergency lighting |
| Light weight (the unit weighs 20 pounds in a typical configuration without infrared flame detectors) | Primarily designed for permanent installation, but can be easily transported and can operate solely on the internal DC battery |
| Hermetically sealed and weather-resistant | Increased durability |
| LEDs are 6x brighter than incandescent from other vendors and 3x brighter than competing LED bulbs | Enhanced facility safety |
| Standard 8GB micro secure digital (SD) boot card | Provides storage space to hold your information |
Product Gallery
How To Order
Videos
Brochure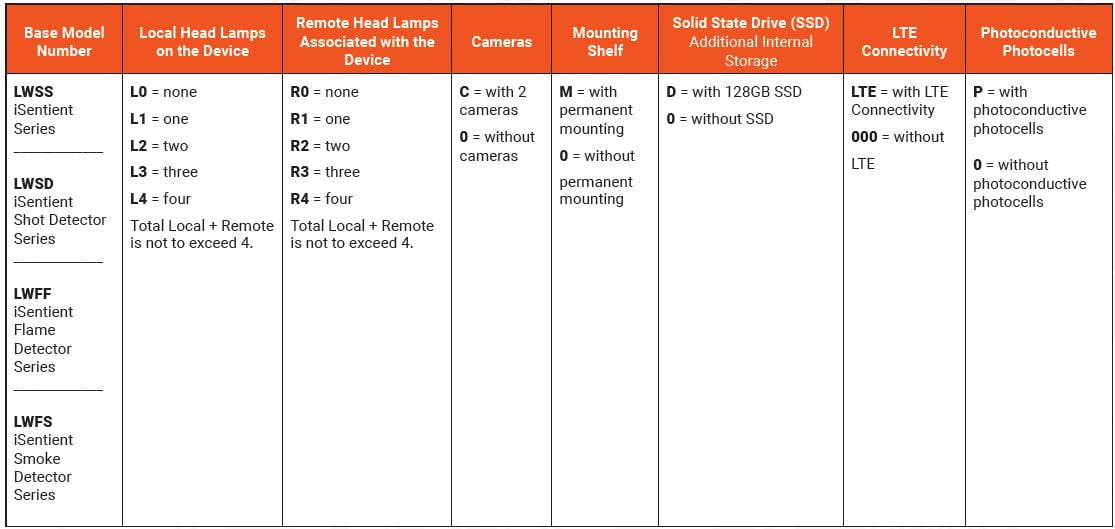 The Lightworks™ iSentient Series Smart Emergency Lighting
The Lightworks™ iSentient Series Smart Emergency Lighting devices meet all regulatory lighting requirements